Most entrepreneurs and solo-preneurs create their own images and designs, as it may be costly to hire a graphic designer for the small day-to-day projects. 
I highly recommend hiring Graphic Designers for other projects, as they are highly skilled and can really make you stand out like a rock-star.
The video I am sharing is for the small, quick and easy projects that you need to create in a hurry.
For example, there may be times when you need to create a round avatar for a photo or a logo; you can jump onto Pixlr and have it completed in less time than it would take to locate, contact,  explain and hire a graphic designer.   And at zero cost!
In the video below, I demonstrate while using Pixlr:
"how to create a round avatar"
for your advertising,promotional pieces or within the signature block of your email.
Using this free image editing software, you may easily create many other projects.
I use a combination of Picmonkey, Canva, and Pixlr, for smaller projects.  It makes it easy to assemble a professional looking graphic or photo in just a few minutes.
For larger projects I hire a graphic designer.
I hope this little tip helps. Let me know if you use it- I'd love to check it out!
Bye for now!
Leslie  : )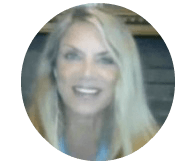 Leslie is by nature entrepreneurial. When she was 21, she opened and operated a dance studio. In 1984, she became both a scuba instructor and a licensed pilot. In 1993, she earned multi-engine, instrument and commercial pilot's licenses. Her wish for others; "Remain true to yourself and never lose sight of your dreams. Make steps each day toward your goals, never give up; you will make it!" Current interests: scuba diving, golf, snow skiing, travel, cooking, gardening, reading, learning and sharing. Leslie truly enjoys exploring life's possibilities with others, and often recognizes skills in others that they did not know they possessed. She encourages everyone to follow their passions and live out their dreams. She greatly enjoys learning about and supporting others' plans and ideas.